Fun Day
---
Fun Day
2019
The Gayle Shaw Memorial Fun Day took place on Sunday, October 27, 2019 at West Edmonton Mall. It was another huge success at $12,006.15 was raised for the Alberta Cancer Foundation. After several mini-games played by all ages from U10 and up, including players from the Edmonton WAM! of the National Ringette League, the day ended with a close intersquad U16AA/U19AA game. Thanks to everyone who organized the event and who raised funds!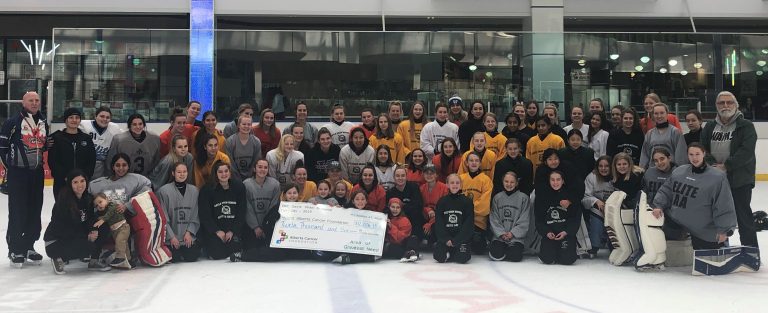 2018
The 2018 Gayle Shaw Memorial Fun Day was a great success again. It was a fun day of ringette and we showcased our great sport ending with an inter-squad game with the U16AA's and U19AA's. The game ended in an 11-11 tie. More importantly, $8104 was raised for the Alberta Cancer Foundation. Thank you all for your support of this great cause.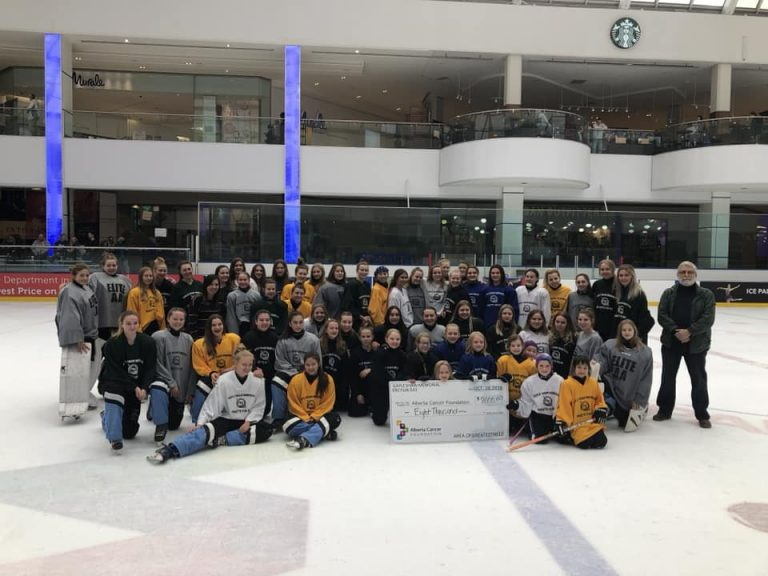 2016

Our six teams of ringette players raised over $13,300 for the Alberta Cancer Foundation.
The Gayle Shaw Memorial ERC Fun Day is a fun mini-game tournament, mixing players into teams of all age levels and raising funds for cancer research.

Thanks to our players for collecting $12, 261 in donations in 2015 for the Alberta Cancer Foundation!

Another record broken.
Fund Raising for Cancer Research
Gayle Shaw was not only a great supporter of Ringette but of the fun that Ringette brought so many. Gayle was taken from us while fighting cancer, so we find it only fitting that we raise funds for cancer research - and to show our support for victims of cancer while playing the game that Gayle loved so much.
Players download and print
Alberta Cancer Foundation Pledge Form

Make cheques payable to "Alberta Cancer Foundation"
Event Outline
6 mixed teams comprising players from Bunny to Open

9 Minutes Run Time games with 1 minute warm-up before each game

Teams must be ready to play at scheduled time

Stoppages for violations or penalties only

Violations will result in loss of possession

Penalties will result in penalty shot

Goalie ring will resume play following a goal

Fund Raising: Support Cancer research and enjoy a fun ringette mixer tournament
2014 Fun Day raised
$10,764
for Canadian Cancer Society!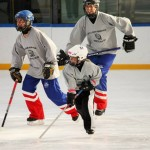 Here is the image that sums up the day.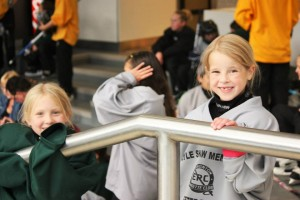 Liat Goldberg Perrott (L) and Hannah Giles (R) played the final game as the two junior players with the most donations pledged.
the Ice Palace for this event